Get a reliable range of Electric Battery Chargers, Battery Chargers, Fcbc Battery Charger, Electronic Battery Charger, and so on.
About Us

Maha Mai Engineers, was set up in the year of 2006 as a manufacturer and supplier entity that is engaged in the production of electronic items including various Electronic Battery Charger, Dc Power Pack, DC Converters SMPS Based, Electronic Hooter, etc. With the industrial experience of around 13 years, we have gained specialization in manufacturing and delivering products matchless specifications. Our product range is manufactured with the help of the best components using advanced technology machines. The material used is first tested for safety, efficiency and other dimensions to assure the quality of the end product. Our products have attained us a large client base from different ends of the country. Before delivering our offerings to the patrons, we make sure whether they are defect-less, reliable and worth the investment of buyer. Also, we offer a guarantee on the goods manufactured by us and if in case, the buyer faces any issue with the product, we will get it replaced promptly.

Product Range

Our supplied range of products is heavily in demand by the customers because of the matchless attributes like as precise design, easy maintenance, reliable performance, longer service life, and many more. We hold specialization in manufacturing a huge assortment of electronic products, some of those are mentioned below:

Electric Battery Chargers
Battery Chargers

Fcbc Battery Charger
Electronic Battery Charger
Dc Power Pack
DC Converters SMPS Based
Electronic Hooter
Customized Battery Chargers
Electronic Fcbc Battery Chargers
Portable Battery Charger
Lead Acid Battery Charger
Safety Relays
Amf Relays
Electric Motor Control Panel
Infrastructural Wing

We knew the importance of having a well-equipped infrastructural unit especially when we a company is associated with the manufacturing of electronic products. Keeping in mind this point, we have built a technically advanced production house where all necessary facilities are available to conduct the business activities in a smooth manner. Further, we have divided our infrastructural unit into various sections namely manufacturing unit, quality control unit, warehouse, sales and marketing department, etc.

International Standardization Organization

Our company is an ISO 9001:2008 certified one that has earned a respectable position in the market because of the quality standards which we have maintained in our Electronic Battery Charger, Electric Motor Control Panel, Fcbc Battery Charger, Electronic Hooter, and many more.

Our Team

The reliable market image which we have gained in all these years has been made achievable because of the support of team members. They work hard to add excellent attributes to the products which helps them to make customers delighted. Moreover, our workforce keeps themselves technically updated so that they may not lack on any ground and help the company to stand out in the market. Some key members of our team include:

Electrical engineers
Production & design engineers
Quality controllers
Sales and marketing professional
Technical & commercial support staff

Why Us?

Our products including Safety Relays, Amf Relays, Electric Motor Control Panel, etc. are of premium quality and are available at cost-effective rates.
We have a certified team of professionals at our wing who assists us in our business operations.
The manufacturing wing of ours is unified with high performance and reliable range of production machines.
We offer prompt delivery of products at client's desired location without any damage during shipment.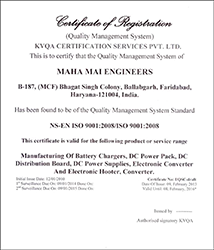 Get in touch with us